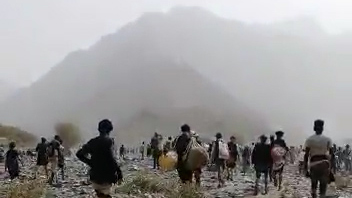 August 10, 2020
The lethal disregard Houthi and Saudi forces have shown civilians during Yemen's armed conflict was replayed in April with Ethiopian migrants at the Yemen-Saudi border. United Nations agencies need to step in to address the immediate threats to the Ethiopian migrants and press for accountability for those responsible for the killings and other abuses.
Stay up-to-date and get alerts on latest videos
Subscribe
(New York, August 13, 2020) – The Covid-19 pandemic and related lockdown are making it even harder for the Wayuu, an indigenous group in Colombia and Venezuela, to survive, Human Rights Watch and the Johns Hopkins Center for Humanitarian Health said in a joint report and accompanying multimedia piece released today.

Protesters Dragged in Front of Phnom Penh Court – July 24th, 2020

Protesters Apprehended by Khan Prampi Makara Security Forces – July 31st, 2020

(New York, August 4, 2020) – Indian authorities continue to impose harsh and discriminatory restrictions on Muslim-majority areas in Jammu and Kashmir, one year after the revocation of the state's constitutional status on August 5,

(Berlin, July 30, 2020) – Police in Belarus have arbitrarily arrested journalists, bloggers, and political activists ahead of the August 9, 2020 presidential election and pressed charges against two potential candidates, Human Rights Watch said today.

(New York, July 31, 2020) – Probation and parole are promoted as alternatives to incarceration that help people get back on their feet, but instead feed bloated jail and prison populations in the United States, Human Rights Watch and the American Civil Liberties Union (ACLU

(Goma, July 30, 2020) – Criminal gangs have kidnapped for ransom at least 170 people near the Virunga National Park in the Democratic Republic of Congo between April 2017 and March 2020, Human Rights Watch said today.

(Nairobi, July 27, 2020) – The International Criminal Court (ICC) announcement on July 16, 2020 of the upcoming trial of two militia leaders is a significant step for justice for grave crimes committed in the Central African Republic, Human Rights Watch said today, releasing a video interview with one of the accused.